Department has Industry Sponsored Labs, IoT from Intel USA, e-Yantra Robotic Laboratory from IIT Bombay and NVIDIA GPU Education Center from NVIDIA
Total six workshops of 15 days has been arranged though "Remote Centre" under e-Outreach project of IIT, Bombay, MHRD, Government of India.
TCS Accreditation for Campus Placements
The Department has organized a workshop on "Outcome-based Curriculum and Design and Evaluation" on Monday, 10th July 2023.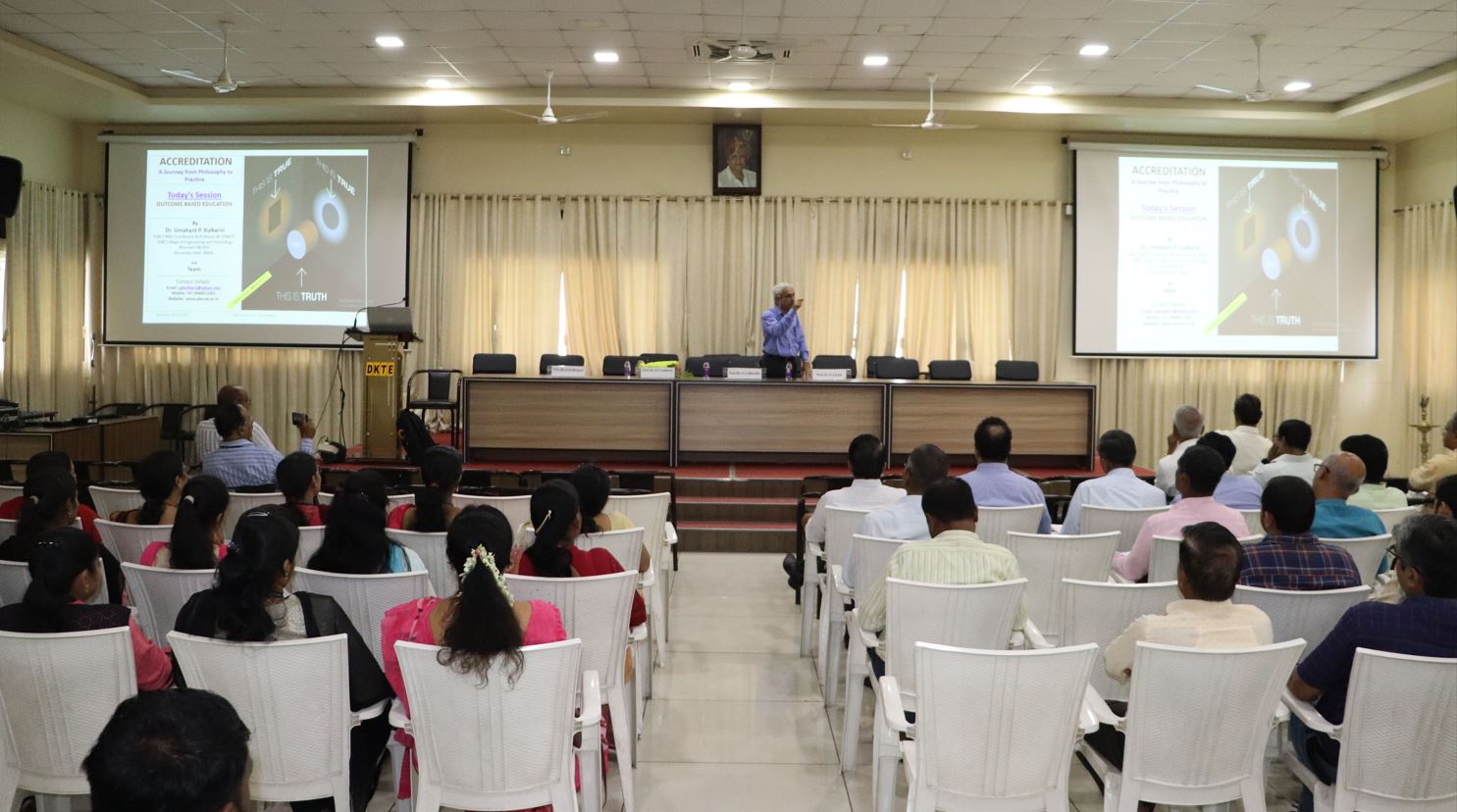 Computer Science and Engineering Department organized One Week Online Faculty Development Program on 'Python 3.4.3' from 4th to 8th May 2020 in association with "Spoken Tutorial Project", Indian Institute of Technology, Bombay. Spoken Tutorial is an initiative of National Mission on Education through ICT, MHRD, Govt. of India, to promote IT literacy through open source Software. 60 Faculties from various engineering colleges participated in this FDP through online mode.
Department organised three days hands-on workshop on "Effective Teaching" under IUCEE from 12th to 14th February, 2020. Prof.Claire Komives from 'San Jose State University', USA conducted this workshop. Total 21 faculty members from various departments attended this workshop.
FDP on Cyber Security was organized from 9th to 14th December 2019 under PMMMNMTT of MHRD by Shivaji University, Kolhapur and hosted by Department of Computer Science and Engineering of DKTE. Total 55 faculties from various colleges of different streams were participated in workshop.
.
Our Department organized one day AICTE Sponsored Staff Development Program on "Awareness about High Performance Computing" in association with C-DAC Pune under National Supercomputing Mission of Govt. of India, on 8th February 2020 for faculty from engineering colleges under Shivaji University Kolhapur. The objective of this workshop was to train the faculty on Scientific Computing using High Performance Architectures. Around 50 faculty members from our institute and other Engineering colleges under Shivaji University attended the workshop.
.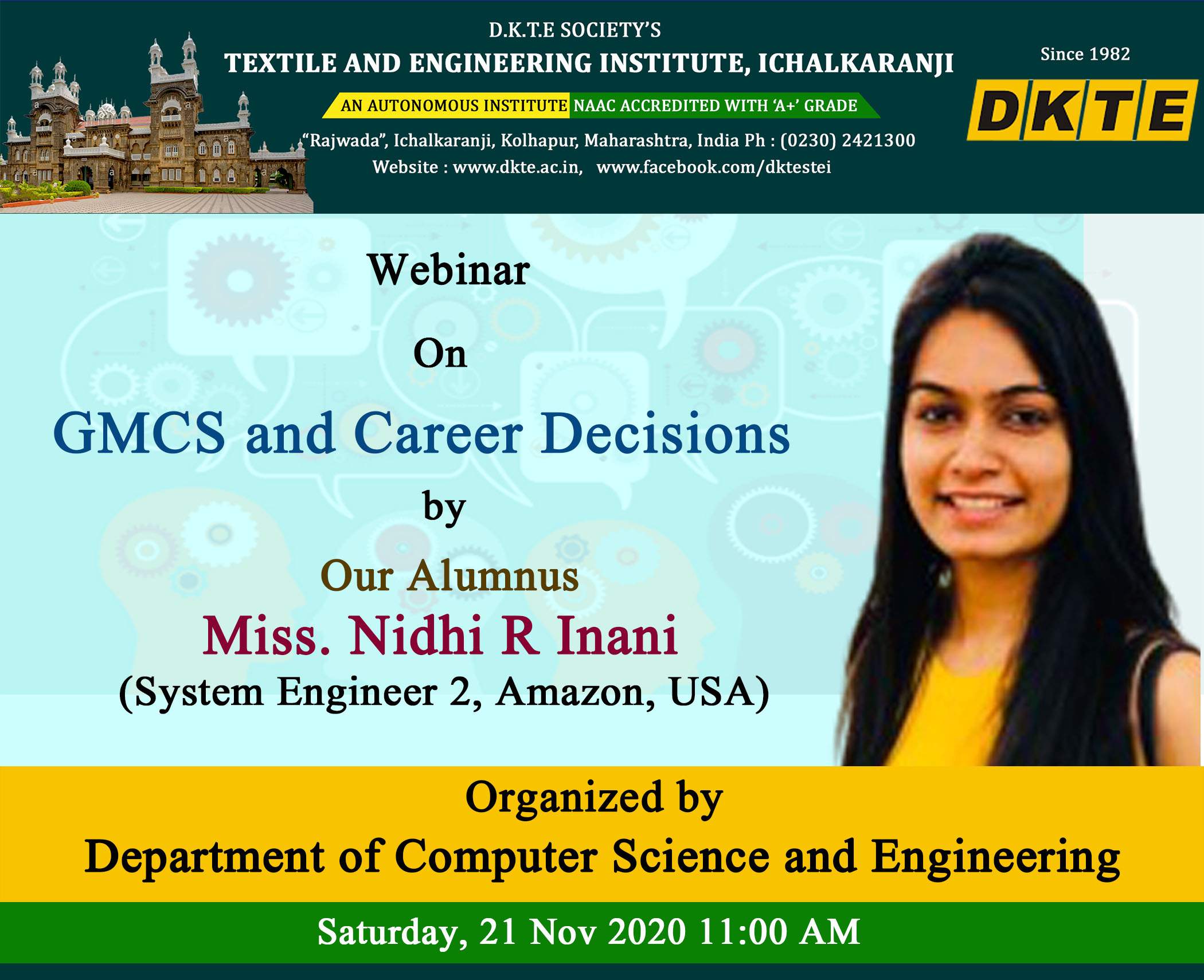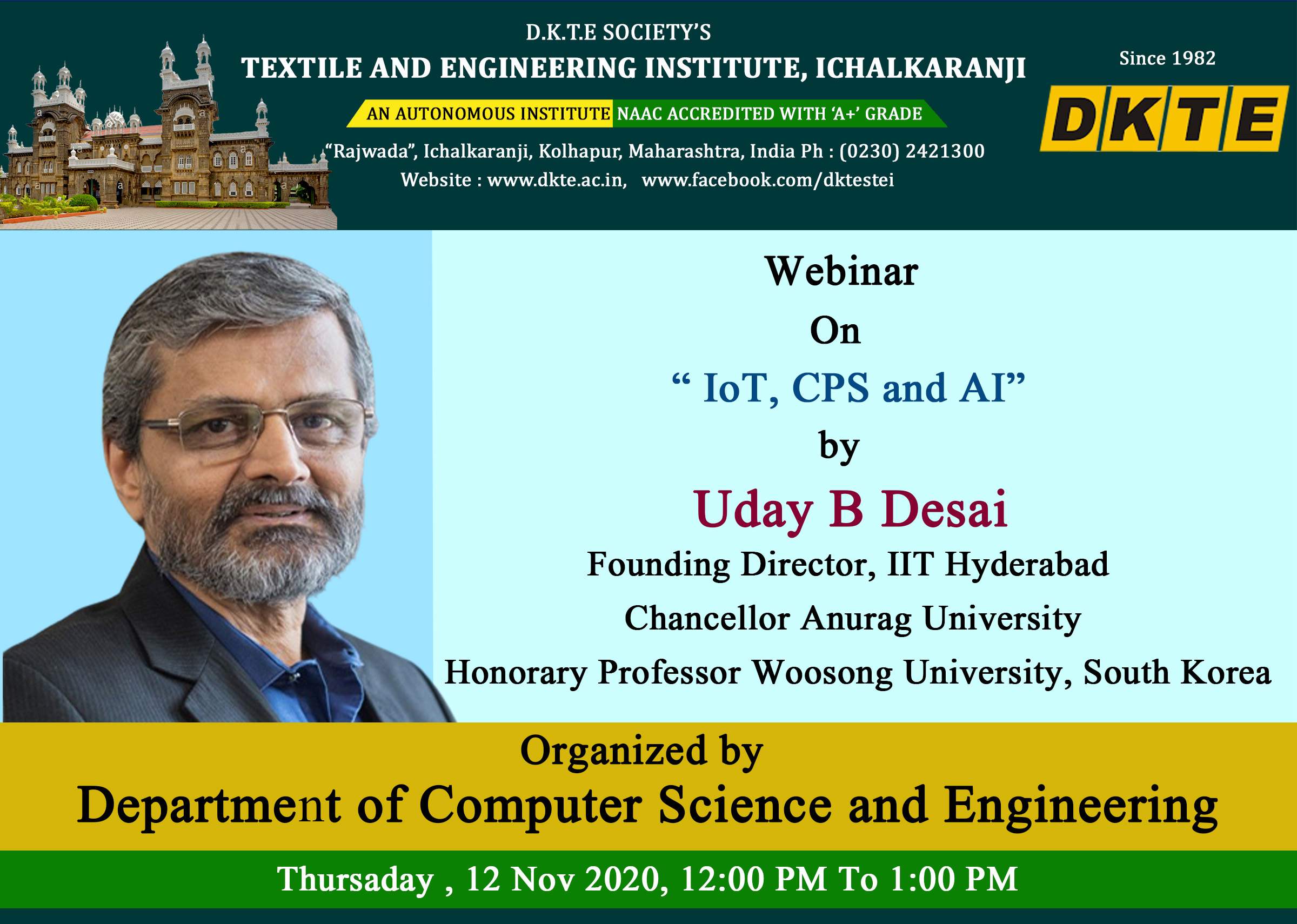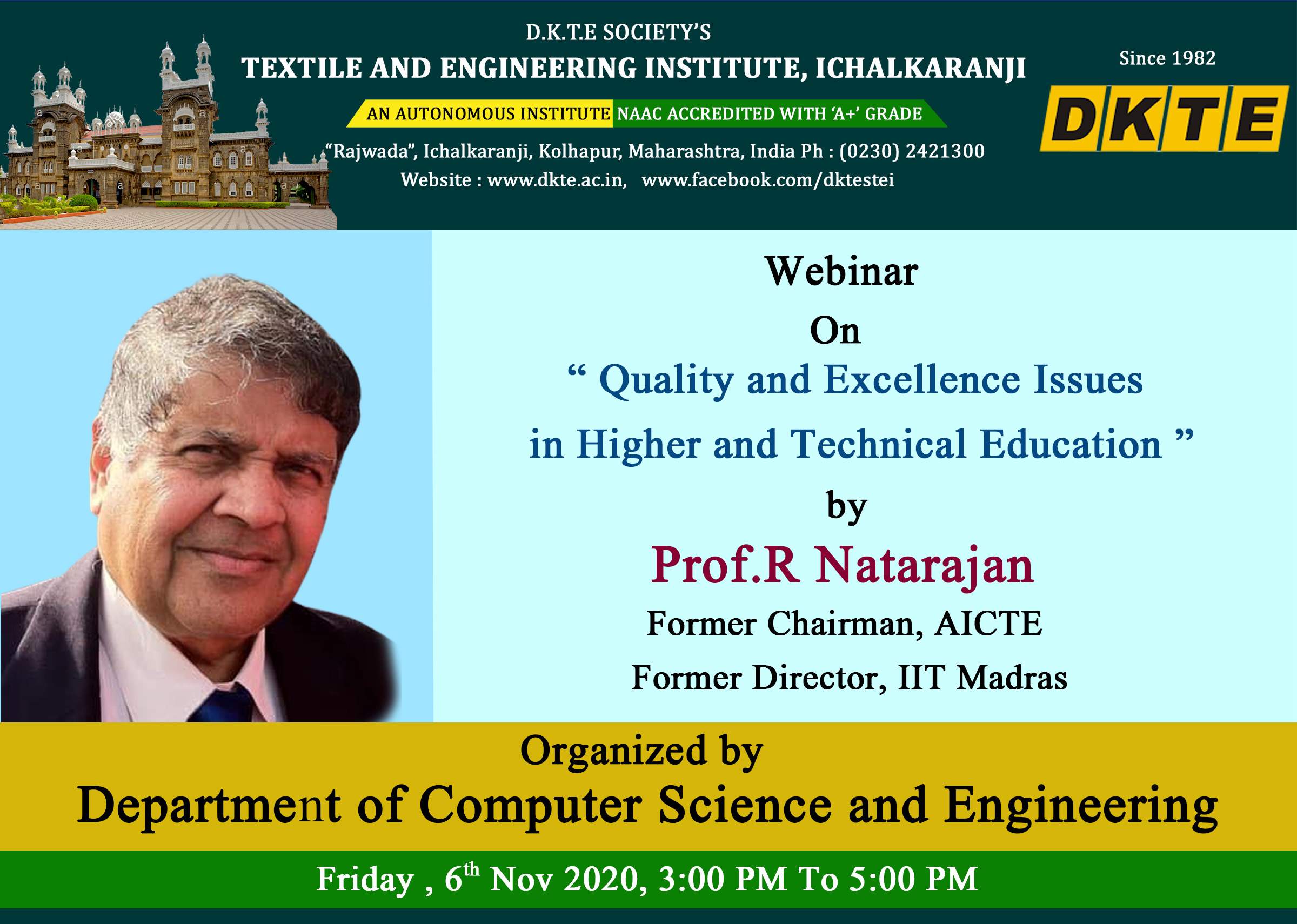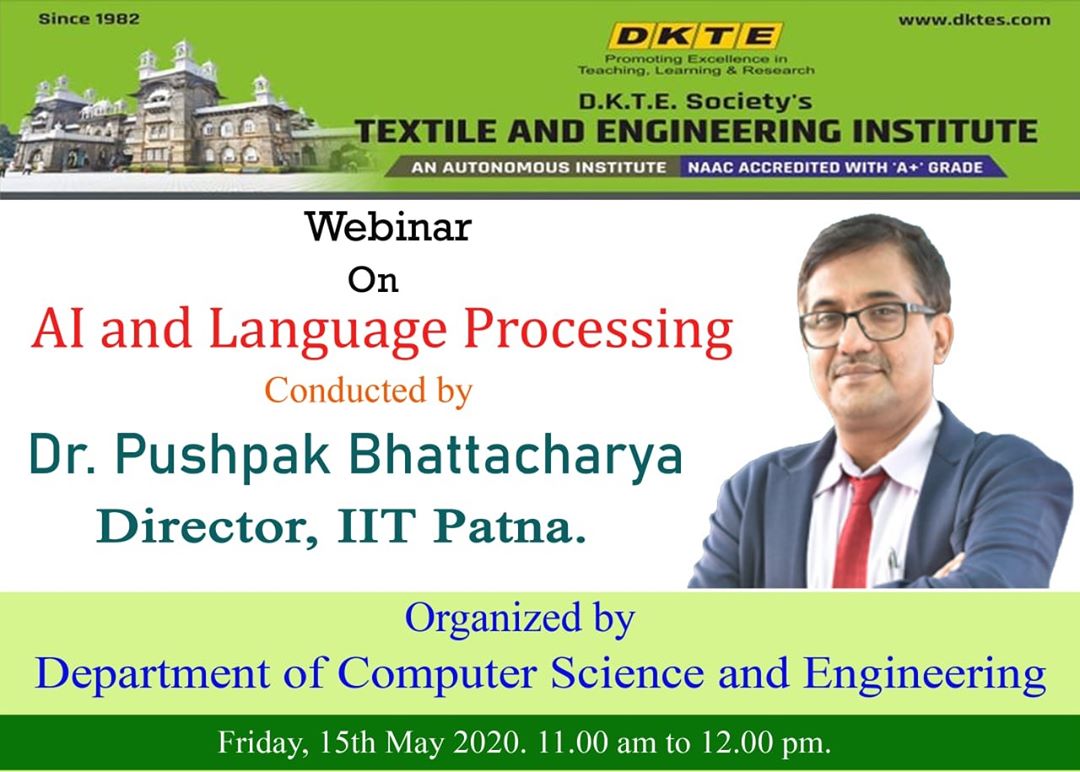 ---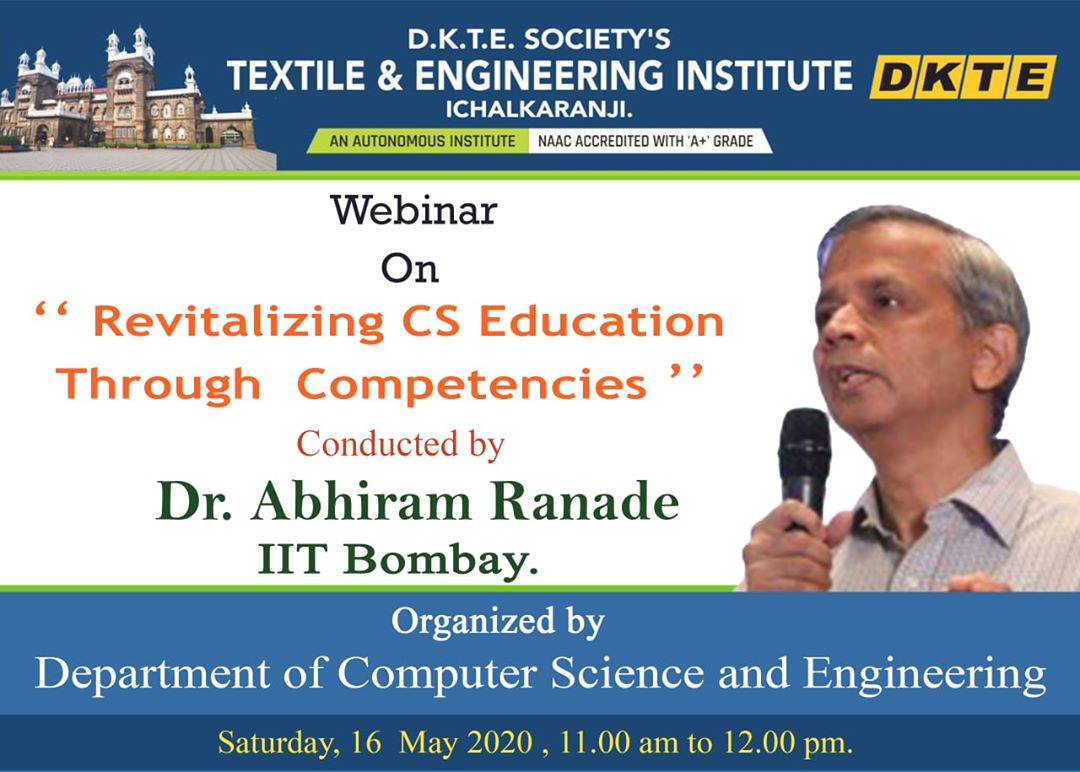 ---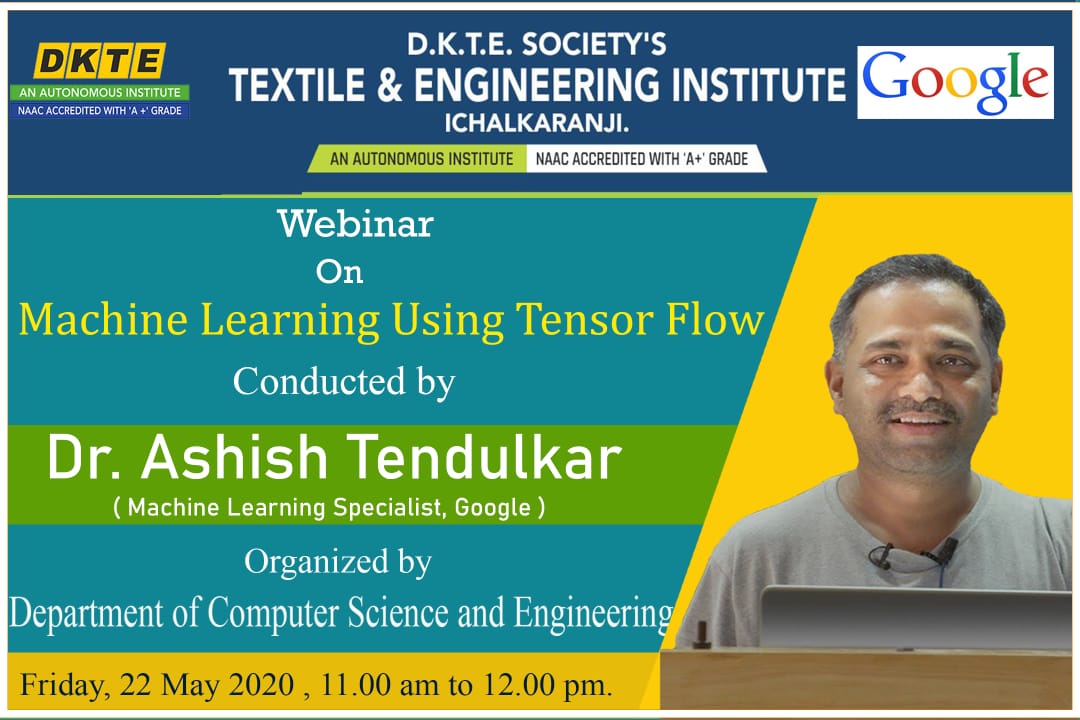 ---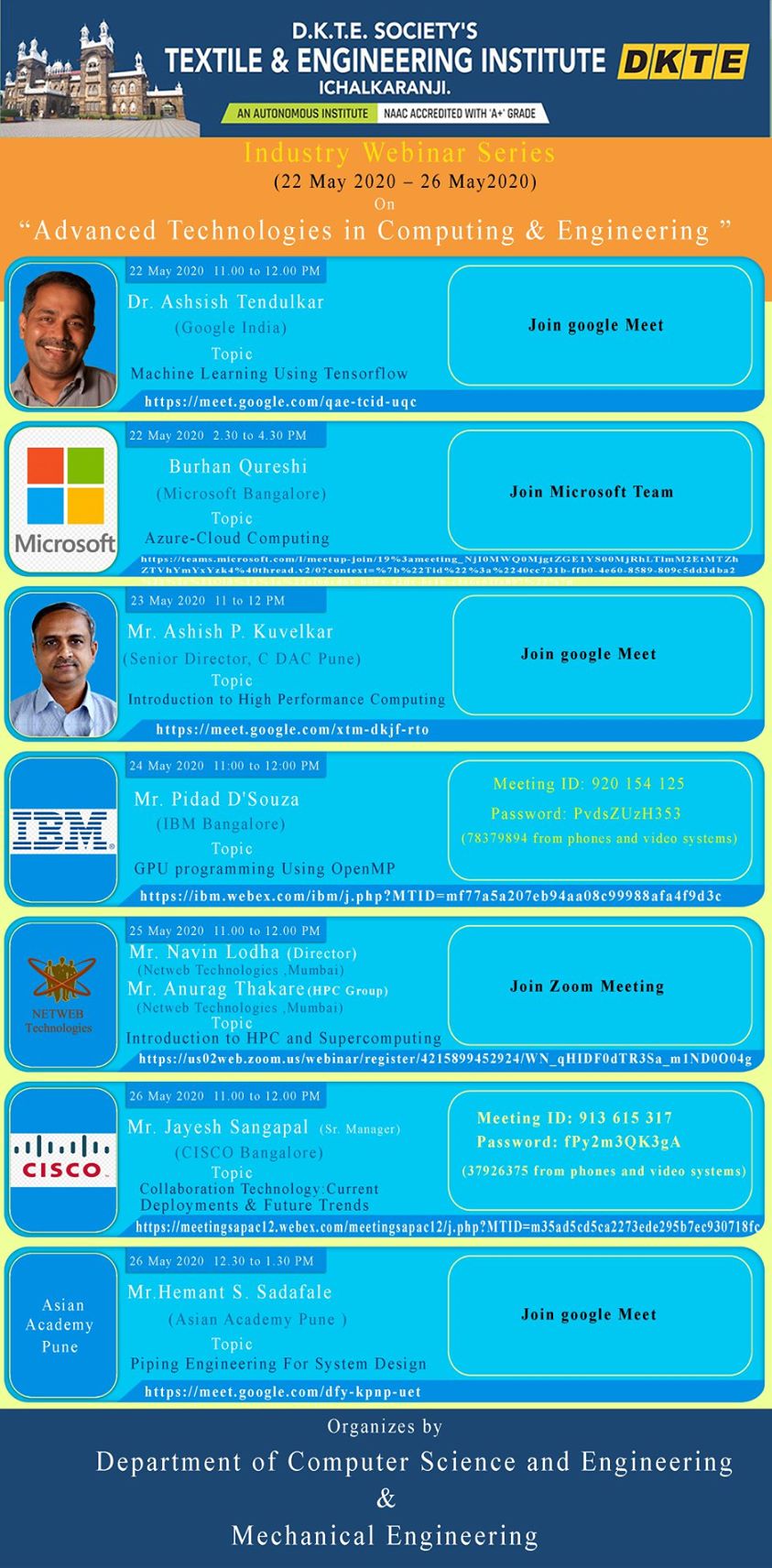 ---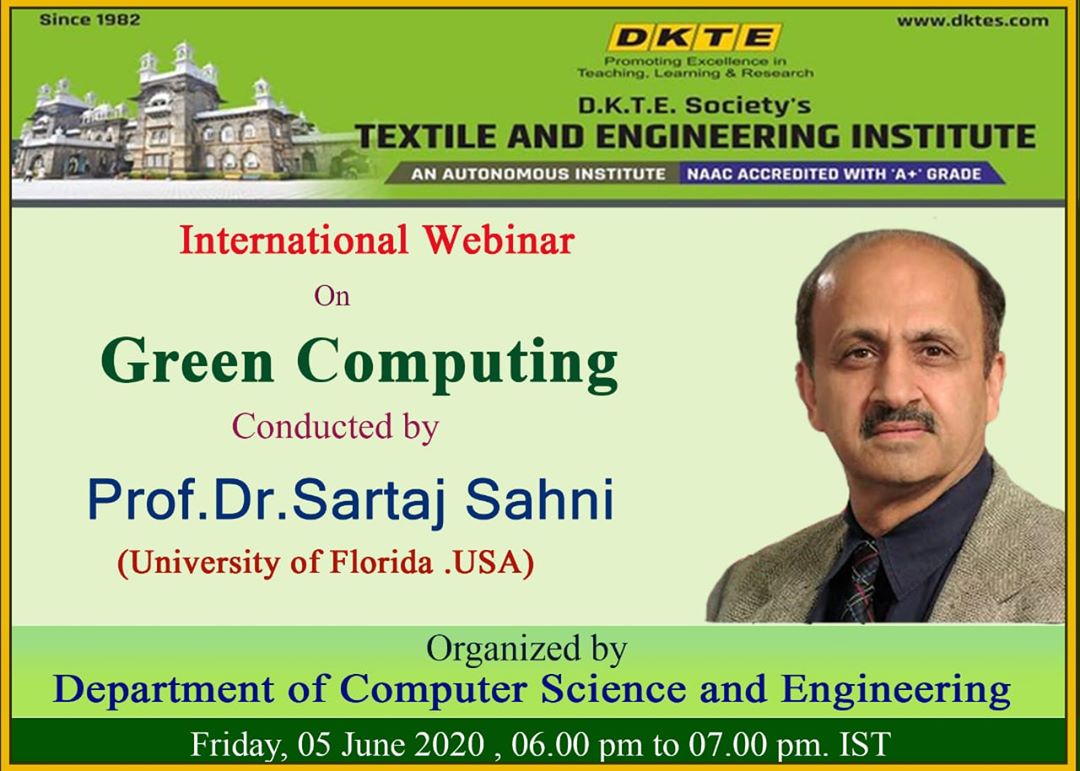 ---
Name of Faculty
Achievement
Prof. S. D. Rane

Devnet Associate Instructor Training

Prof. V. V. Kheradkar

Blue Prism Associate Developer Educator Certification

Prof. S. R. Patil

Red Hat Certified System Administrator

Prof. V. G. Khetade

Devnet Associate Instructor Training

Prof. S. D. Rane
Completed Educator Training Certificate for successfully completing Devnet Associate Instructor Training in association with Eduskills and Cisco Networking Academy
Prof. S. C. Sagare
Completed Educator Training Certificate for successfully completing Cyber Devops Associate Instructor Training in association with Eduskills and Cisco Networking Academy
Prof. P. M. Gavali
Completed Cybersecurity Foundation, Gateway & Essentials Train the Trainee course in association with Eduskills and PaloAlto Networks Cyber Security Academy.
Prof. (Dr.) D. V. Kodavade
Participated in curriculum development Faculty development program on Parallel and Distributed Computing
held at Tennessee Technological University , Cookeville, Tennessee, United States, from 24 -28 July 2018. His air travel and staying was supported by Intel and NSF USA.
Prof. (Dr.) D. V. Kodavade
Invited as keynote speaker on Knowledge Based Computer Systems and Its Applications to Engineering Sector in 4th Annual World Congress on Emerging Trends in Information Technology "InfoTech 2015" held at Shenzhen, China. April 18-22, 2015
Prof. (Dr.) D. V. Kodavade
Participated and explained Foundation Program Activities of Infosys Campus Connect Program at co-ordinator meet held at Infosys Pune
Prof. (Dr.) D. V. Kodavade
Worked as a member of panel in the Panel Discussions at 'E-yantra National Symposium' held at IIT Bombay
Prof. (Dr.) D. V. Kodavade
Received prestigious "50 Fabulous Edutech Leaders Award" from World Education Congress
Prof. (Dr.) D. V. Kodavade
Attended 13th Conference on International Exchange of Professionals organised by Shenzhen Govt., China
Prof. (Dr.) D. V. Kodavade

Attended as a resource person iPDC one week workshop on Curriculum Design on Parallel and Distributed Computing

held at Tennessee Technological University,USA, July 2018. The workshop was supported by National Science Foundation,USA
| Sr No | Title of Paper | Name of Faculty | Journal | Date |
| --- | --- | --- | --- | --- |
| 01 | Iterative Entity Collector for Complex Open Domain Question Answering System | Prof. A. A. Gat | The Seybold report | September 2020 |
| 02 | Exploring Visual Relationship for Image using GCN-LSTM | Prof. A. A. Gat | GIS Science Journal | June, 2021 |
| 03 | Unsupervised CNN model for indoor and outdoor image classification | Prof. J. D. Pakhare | The Seybold Report | September 2020 |
| 04 | Hybrid Mayfly Moth Flame Optimization based Deep Convolutional Neural Network for Indoor-Outdoor Image Classification | Prof. J. D. Pakhare | GIS Science Journal | May 2021 |
Sr No

Title of Paper
Name of Faculty
Journal

Date

01
Sentiment Analysis using Multiple Word Embedding for Words
Prof. S. K. Shirgave
International Journal of Recent Technology and Engineering

(Scopus Indexed)

May 2020
02
Template Based Clustering of Web Documents Using Locality Sensitive Hashing (LSH)
Prof. T.I Bagban
Advances in Intelligent Systems and Computing

(Scopus Indexed)

Special Issue Jan 2020
03
Survey on trustless crowd intelligence Eco system management using block chain
Prof. K. S .Kadam
International Journal of Engineering
Research and technology
December. 2019
04
A System For Predictive Data Analytics Using Sequential Rule Mining
Prof. S. C. Sagare,
Prof. Dr. S.K. Shirgave,
Prof. Dr. D. V. Kodavade
International Journal of Software
Innovation (Scopus Indexed)
March 2020
05
Use of Purpose and Role Based Access Control Mechanisms to Protect Data within RDBMS
Prof. S. K. Patil
Prof. S. C. Sagare
Prof. A. S. Shelar
International Journal of Software Innovation (Scopus Indexed)
January-March 2020
Sr No

Title of Paper
Name of Faculty
Journal

Date

01
Domestic Electricity Consumption Analysis Unsing Data Mining Techniques
Mrs. S.S.Darbastwar
International Journal of Advance Research and Innovative Ideas in Education
March, 2018
02
Detection of Duplicate records uning progressive windowing techniques
Prof. K.S.Kadam
International Journal of Engineering and Technology
March 2018
03
Enhncing Sub Graph Matching Correlation Technique in Large Graph Database
Prof. K.S.Kadam
International Journal of Engineering and Technology
March 2018
04
Survey Paper on Detection of Unhealthy Region of Plant Leaves Using Image Processing and Soft Computing Techniques
Prof. Dr. D. V. Kodavade
International Journal of Computer Engineering in Research Trends
Feb.
2018
05
Continuous Multitopic Tweet Summarization and Timeline Generation using Clustering
Prof.(Dr.) D.V.Kodavade
International Journal of Computer Engineering in Research Trends
Feb 2018
06
SMART LMD : A smart technique for lane markers detection in urban area roads using IOT.
Prof. S.C.Sagare Prof. S.K.Patil
International Journal of Advance Research and Innovative Ideas in Education
May 2019
07
Implementation of color image sampler and profiler
Prof. V.G.Khetade
International Journal of Advance Research and Innovative Ideas in Education
May 2019
08
An augmented reality experience in BEY - BATTLE gaming
Prof. P.M.Gavali
International Journal of Computer Science Trends and Technology
May 2019
09
QR code based authentication system for exam management
Prof. A.B.Majgave
International Journal for Scientific Research and Development
April 2019
Sr No

Title of Paper
Name of Faculty
Journal

Date

01
Detection of Duplicate Records by Using Progressive Windowing Technique
Prof. K. S. Kadam
International Journal of Advanced Research and Innovation Ideas in Education
May, 2017
02
Energy Consumption on Smartphone WebBrowsing in 3G Network
Prof. U. A. Nuli
International Journal of Computer Engineering in Research Trends
July,2017
03
Association Rule Mining Using Bio inspired bees swarm intelligence on CUDA

Prof. U. A. Nuli

Prof. A. S. Shelar

International Journal of Advanced Research in Computer Science Volume 8, ISSN No. 0976-5697
July – August 2017
04
Protecting Data in Relational Database Management system using purpose and role based access control
Prof. S.K.Patil
Prof. S.B.Bhagate
Interna tional Journal of Computer engineering in research trends Volulme 4 Issue 8 Pg. 336-340 (2349-7084)
August, 2017
05
A Key Encryption for Digital Signature by Forward Security
Prof. S.B.Bhagate
International Journal of Advance Research in Engineering Science and Technology Vol.4 issue 10
Octomber, 2017
06
Survey on Mining Partially Ordered Sequencial Rule
Prof. S.C.Sagare
International Journal of Computer engineering in research trends Impact Factor 4.029 Volulme 4 Issue 5 Pg. 169-170 (2349-7084)
May 2017
07
SPOSR: A System for Mining Partially Ordered Sequential Rule
Prof. S.C.Sagare
International Journal of Advanced Research and Innovative Ideas in Education Volulme 3 Issue 4 Pg. 169-170 (2396-4396)
August 2017
08
A Survey On OMCHAR: Opinion-mining Methods and their CHARacteristics
Prof. S.C.Sagare,
Prof. V. G.Khetade,
Prof. Mrs. S. S. Darbastwar
International Journal of Advance Research and Innovative Ideas in Education -ISSN(O)-2395-4396 Vol-3Issue-6 2017
Nov, 2017
09
A Survey on Taxonomy Learning using Graph Based Approach
Prof. K.S.Kadam
International Journal of Computer engineering in research trends Impact Factor 4.029 Volulme 4 Issue 11 Pg. 539-542 (2349-7084)
Nov, 2017
10
A Semantic Network approach used to Measure Term Similarity
Prof. K.S.Kadam
International Conference on Research, Technology and Education Space
Feb.2018
11
Enhancing Sub Graph Matching With Set Correlation Technique in Large Graph Database
Prof. K.S.Kadam
International Conference on Research, Technology and Education Space
Feb.2018
12
Detection of Duplicate Records Using Progressive Windowing Technique
Prof. K.S.Kadam
International Conference on Research, Technology and Education Space
Feb.2018
13
Investigation of Mining Association Rules on XML Document
Prof. P. M. Gavali
International Journal of Computer Engineering in Research Trends
(E-ISSN: 2349-7084)
Feb, 2018
14
Implementation of lossless visible Watermarking and data hiding using advanced encryption standard algorithm
Prof. V. G.Khetade
International Journal of Latest Trends in Engineering and Technology ISSN:2319-3778 Vol-9,Issue-4
Feb, 2018
15
Construction of basis matrices for (k,n) and progressive visual cryptography schemes
Prof. S.B.Bhagate
International Journal of Computer Science and Engineering ISSN. 2347-2693 Vol.6
Feb, 2018
Sr No

Name of Faculty
Title of Book
ISBN Number
01
Prof. Mrs.S.S.Darbastwar
TCP-DCR: A Protocl for Tolerating Wireless Channel Errors
LAP Lambert publication
ISBN- 978-613-9-87091-2
02

Prof. K. S. Kadam

Prof.Y. M. Kamble

Duplicate Code Detection and Extraction
LAP Lambert Academic Publishing
ISBN- 978-613-9-86485-0
03
Prof. S.K.Patil
Data Protection Through Purpose & Role Based Access Control in RDBMS
LAP Lambert Academic Publishing
ISBN- 978-613-9-91499-9
04
Prof. S.C. Sagare
Mining Sequential Rules by Applying Sliding Window Constraint
LAP Lambert Academic Publishing
ISBN- 978-613-9-84141-7
05
Prof. A.B.Majgave
Smart Service Recommendation System by Applying Map Reduce Technique on Big Data
LAP Lambert Academic Publishing
ISBN- 978-613-9-86919-0
06
Prof.A.B.Majgave
A vision based approach for Deep Web Data Extraction
LAP Lambert Academic Publishing
ISBN- 978-3-659-69293-2
07
Prof. Y. M. Kamble
Prof. K. S. Kadam
A Novel Approach for Data Hiding In Encrypted Image
LAP Lambert Academic Publishing
ISBN- 978-613-9 87180-3
08
Prof. A.S.Shelar
Bees Swarm Optimization for Association Rule Mining on Cuda
LAP Lambert Academic Publishing
ISBN-978-613-9-83633-8
09
Prof. Mrs.D.M.Kulkarni
Knowledge extraction from text document using data mining Techniques
LAP Lambert Academic Publishing
ISBN-978-3-659-86768-2
10
Prof. V.V.Kheradkar
Retrieval of aggregate data in Uncertain and Probabilistic
Databases
Published @ Scholar's Press, Omniscriptum Publishing Group, UK
ISBN-13: 978-613-8-67893-9
Selection for Master Studies in Abroad
| Sr No | Name of Student | University |
| --- | --- | --- |
| 01 | Mr. Akshay Mali | MS in Software Engineering at Indiana University-Purdue University Indianapolis, USA. |
| 02 | Mr. Raj Dighe | MS in Data Analytics at RMIT University, Australia |
| 03 | Mr. Pavan Savalani | MS at Dublin City University, Ireland. |
| 04 | Mr. Siddharth Kokalki | MS in Data Analytics at RMIT University, Australia. |
| 05 | Mr. Ajay Mali | MS in Networking at Manukau Institute of Technology, Auckland, New Zealand |
| 06 | Mr. Rohan Jabade | MS in Data Analytics at RMIT University, Australia |
| Sr No | Name of Student | Year |
| --- | --- | --- |
| 01 | Mr. Prathamesh Vinayak Saraf | 2019-20 |
| 02 | Mr. Iklas Ejaj Rahimatpure | 2019-20 |
| 03 | Miss. Rutuja Abhay Prabhudesai | 2019-20 |
| 04 | Miss. Poonam Jaysingh Magdum | 2018-19 |
| 05 | Miss. Ashika Ravindrs Porwal | 2018-19 |
| 06 | Miss. Jyoti ShashikumarVarma | 2018-19 |
| 07 | Mr. Bhushan Chandrakant Thombare | 2018-19 |
| Sr No | Name of Student | University Rank | Year |
| --- | --- | --- | --- |
| 01 | Mr. Yadav Akash Chaitnya | 1st | 2018-19 |
| 02 | Miss. Porwal Ashika Ravindra | 2nd | 2018-19 |
| 03 | Miss. Vaishnav Neha Suresh | 3rd | 2018-19 |
| 04 | Miss. Varma Jyoti Shashikumar | 8th | 2018-19 |
| Sr No | Name of Student | Event Name | Award |
| --- | --- | --- | --- |
| 01 | Miss. Apoorva Pise | India's First Snapchat Augmented Reality (AR) 'Lensathon'- an online Hackathon | 3rd Prize |
| 02 | Miss Apoorva Pise | 'Facebook Spark AR Program' offered by The School of Innovation from Facebook for creating an AR effect in Retail Theme for the brand "Chumbak" | Winner |
Sr No

Name of Student
Event Name
Award
01
Miss. Priyanka Sogani
Episteme 2K20 Organized by DKTE Society's Textile and Engineering Institute, Ichalkaranji, "EPISTEME"18th January 2020
Winner
02
Miss. Priyanka Sogani
Inspira 2K20 Organized by Rajarambapu Institute of Technology, Sakharale "Elocution Speech" 11th January 2020

Runner-up

03
Miss. Priyanka Sogani
Vivekanand Mahotsav 2020 organized by Vivekanand College, Kolhapur on 30/01/2020

Runner-up

04
Miss. Priyanka Sogani
TechnoXian'12 2k20 'Walk in Interview' organized by Dr. J.J.Magadum College of Engineering, Jaysingpur
Winner
05
Miss. Priyanka Sogani
TechnoXian'12 2k20 'Master of Word (English Debate)' organized by Dr. J.J.Magadum College of Engineering, Jaysingpur
Winner
07
Miss. Priyanka Sogani

TECHNOSIS 2020 'Interview Skill' Organized by Chemical Technology Programme at Department of Technology Shivaji University, Kolhapur

On 20/02/2020
Winner
08
Miss. Priyanka Sogani
Innovate 2020'I-Presento'Organized by PVPIT, Budgaon, Sangli on 22/02/2020
Winner
09
Miss. Priyanka Sogani
TECHNOCHEM 2020 'Mock Placement' Organized by Department of Chemical Engineering , D.Y.Patil College of Engineering and Technology, Kolhapur. On 13 & 14 /02/2020
Runner-up
10
Miss. Priyanka Sogani
X CODE 'Hassle Talk' Organized by Department of CSE & IT, Textile and Engineering Institute, Ichalkaranji
Runner-up
11
Miss. Priyanka Sogani
Innovate 2020'I-Placemento'Organized by PVPIT, Budgaon, Sangli on 22/02/2020
Winner
12
Miss. Priyanka Sogani
Vibrant 2020 'Voice of Youth' Organized by Sanjay Ghodawat University, Atigre on 29th Feb. 2020
Winner
13
Miss. Priyanka Sogani
Trailblazer 2020 'Face-it' Organized by (MESA) at RIT Islampur on 2nd and 3rd March 2020
Winner
14
Miss. Priyanka Sogani
Technosphere 2K20 'Debate' Organized by RIT Islampur on 2nd and 3rd March 2020
Winner
15
Mr. Shubham Ojha
Innovation2K20 'Project Competition' Organized by Sharad Institute of Technology, Yadrav on 10th March 2020

Runner-up

16
Miss. Shradha Baldawa
Innovation2K20 'Project Competition' Organized by Sharad Institute of Technology, Yadrav on 10th March 2020
Runner-up
17
Mr. Prathmesh Saraf
Infotsav 4.0 'C-War' Organized by RIT, Islampur on 3rd March 2020
Runner-up
18
Harshmeet Singh
Infotsav 4.0 'C-War' Organized by RIT, Islampur on 3rd March 2020
Runner-up
19
Mr. Avadhut Balaso Yadav, Mr. Koustubhh Shamgonda Patil
Kho-Kho conducted at COE, Pune
Winning Position
20
Mr. Koustubhh Shamgonda Patil
Kho-Kho conducted at COE, Pune
Best Player Award
21

Miss. Jyoti Varma, Miss. NehaVaishnav, Miss. Ashika Porwal, Mr. Nihit Rathi

Project Exhibition Innovation - 2019 Organized by Annasaheb Dange College of Engineering, Ashta

Winner
22
Miss.Nikita Jadhav, Miss.Bhagyashri Koli, Mr.Rohit Ghorpade, Mr.Ganesh Gogate

INNOWIZ2019 Project convention KIT COE, Kolhapur

Winner
23
Miss.Nikita Jadhav, Miss.Bhagyashri Koli, Mr.Rohit Ghorpade, Mr.Ganesh Gogate

Techsymposium-2019 Project Competition DKTE,TEI Ichalkaranji

Winner
Sr No

Name of Student
Event Name
Award
01
Mr. Siddarth Kittad
Vision -2018
Winner
02
52 Students
Certificate for Completion of C
Training Completed
03
27 Students
Honour Code Certificate
Completed
04
Mr. Prathmesh Saraf
Stanford Online, Machine Learning
Completed
05
Mr. Rushikesh Desai
Student Summer Internship Program Organized by COEP, Pune
Completed
06
45 Students
Certificate for Completion of Python Training
Completed
07
Mr. Sahil Makandar

Understanding Machine Learning with Pyathon

1 hour of learn Computer vision with open CV Library using Python

Introduction to Python & Machine Learning

Introduction to Python for Data Science

Building Machine Learning Models in Python with scikit-learn

Neural Networks and Deep Learning

Machine Learning

Completed
08
64 students
Certificate for Completion of Java Training
Completed
09
Miss. Priyanka Sogani
Time to argue BIMEC-K organized at Bharati Vidyapeeth Institute of Management,
Kolhapur, 27th February to 1st March 2019
Winner
10
Miss. Priyanka Sogani
Extempore Vision-19 Organized by Walchand College of Engineering Sangli, January-19
Winner
11
Miss. Priyanka Sogani
Oratio Vision-19 Organized by Walchand College of Engineering Sangli, January-19
Runner up
12
Miss. Priyanka Sogani
Man Edge – 15 Feb 2019 Organized by Textile and Engineering Institute, Ichalkaranji
Winner

13

Miss. Priyanka Sogani
Campus Recruitment Aavahan 2K-19 – 13 & 14 Feb2019 Organized by Dr. J.J.Magdum College of Engineering
Winner
14
Miss. Priyanka Sogani
Vice of Youth Vibrant 2019 – 25 to 27 February 2019 Sanjay Ghodawat Group of Institutions Atigre
Winner
15
Miss. Priyanka Sogani
Mockvita Pioneer 2019 – 27 & 28 January 2019 Organized by College of Engineering, Kolhapur
Winner
16

Miss. Susmita Udupi, Shivani Kolekar, Saklen Mulla, Mr. Dhiraj Gurav, Mr. Prathiviraj Patil, Mr. Avinash Jadhav

Shart India Hacathon, 2019 – 2 & 3 March 2019 Organized by MHRD
Qualified for Grand Final
17
Miss. Jyoti Varma, Miss. Neha Vaishnav, Miss. Ashika Porwal, Mr. Nihit Rathi, Mr. Bhushan Thombare
Project Exhibition Innovation - 2019 Organized by Annasaheb Dange College of Engineering
Winner
18
Vivek Kumbhar,Mr. Sahil Shaikh, Mr. Sandesh Bhujavadkar, Mr. Prashant Mali, Mr. Pruthviraj Patil, Mr. Kiran Gosavi, Mr. Vasim Mujawar
Kabbadi – 13 March 2019 Organized by Textile and Engineering Institute, Ichalkaranji
Winner
19
Mr. Prathmesh Davande
Vidhikara (Coding) – 13 & 14 Feb. 2019 in Aavhan 2K19 Organized by Dr.J.J.Magdum College of Engineering, Jaysingpur
Runner up
20
Miss. Poonam Magdum
GATE – 2019
Qualified (34.33)
21
Miss. Ashika Porwal
GATE – 2019
Qualified (31.67)
22
Miss. Jyoti Varma
GATE – 2019
Qualified (32.67)
23
Mr. Thombare Bhushan
GATE – 2019
Qualified (29.56)
24
Mr. Dhruv Patel, Mr. Amit Mastake, Mr. Sammed Neje, Mr. Kedar Karpe, Mr. Akshay Sanap
Certificate of Merit by the KPIT Technologies Limited (KPIT, Sparkle)
Exclusive top 100 teams, 'Centennial Brigade' All over India
| Sr No | Name of Student | Event Name | Award |
| --- | --- | --- | --- |
| 01 | Miss. Ritu Alase | Certificate of Excellence | Top Ranker 2017 |
| 02 | Mr. Dhruv Patel | Introduction to Machine Learning (12 Week) by NPTEL Online Certification | Completed |
| 03 | Mr. Dhruv Patel | Data Science for Engineers (8 Week) by NPTEL Online Certification | Completed |
| 04 | Mr. Dhruv Patel | Open Data Science - Machine Learning and Intelligence by Techfest 2017-18 at the Indian Institute of Technology, Bombay | Participated |
Sr No

Name of Student
Event Name
Award
01
Miss. Rutuja Murdande
Mega Project
Winner
02
Mr. Shahanawaj Mulla
Webcasters
Winner
03
Mr.Nikileen Kamble
Webcasters
Winner
04
Mr.Shahanawaj Mulla
Oracle Workforce Development Program
Completed
05
Mr.Shahanawaj Mulla
C' Maestro
Runner Up
06
Miss. Alka Sharma
Certificate of Excellence Top Ranker 2017
1st Rank
07
Mr. Shridhar Kolap, Samir Jamadar
Codetrix (Expert)
Runner Up
08
Mr. Siddharth Anand Kokalki, Mr. Ritesh Haridas Sontakke,Mr. Pavan Anand Mundada, Mr. Akshay Rajendra Mali
Paper Publication
IJECS Paper Publication
09
Miss. Dayma Kirti Giridhar
Certificate of Excellence Top Ranker 2017
First
10
Miss. Ankita Varma
Fashion Show Vastrotsav17
Second
11
Mr.Anis Mulla, Mr.Sahil Bandar, Mr.Ajinkya Kamble, Mr.Sachin Munde, Mr. Vyakatesh Bhopale
Project Competition
PARIKRAMAA2K17
Second
12
Mr.Anis Mulla, Mr.Sahil Bandar, Mr.Ajinkya Kamble, Mr.Sachin Munde, Mr. Vyakatesh Bhopale
Project Competition
VISION 2K17
First
13
Miss.Aishwarya Sakhare
INNOVATION2K17 Poster Presentation
Second
14
Mr.Anis Mulla, Mr.Sahil Bandar, Mr.Ajinkya Kamble, Mr.Sachin Munde, Mr. Vyakatesh Bhopale
BEIT Project Competition
First
15
Mr. Druv Patel
Python, Shell, Docker workshop Quiz in Metamorphosis, 2017
Winner of the Shell-Docker workshop quiz conducted by WLUG
e-Yantra
Intel Internet of Things (IoT)
GPU Education Center
AI and Deep Learning Center
Center of Excellence in association with Eduskill Project in

AWS Cloud
CISCO
Redhat
PaloAlto
Blueprism
DevOpp
DevNet

FOSSEE Lab IIT, Bombay
Apple iMac Lab
CISCO Network
Business Intelligence Tools from Talent