Institution's Innovation Council (IIC)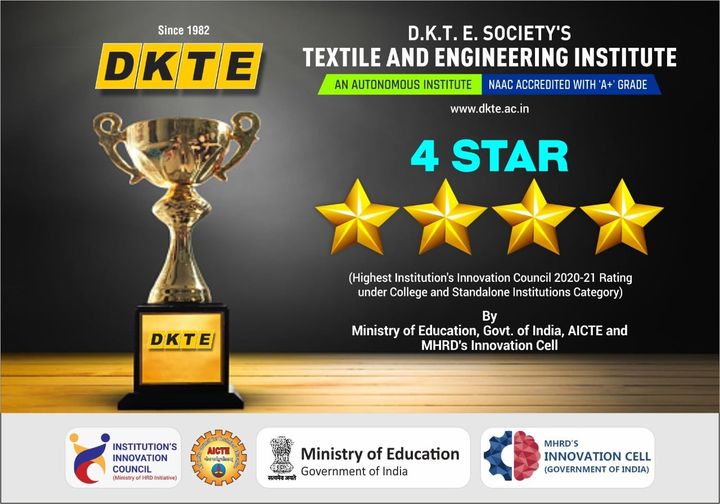 The Ministry of Education's Innovation Council (MIC) and AICTE, New Delhi announced the results and achievements of 2726+ IIC Institutions. In which, DKTE Institution Innovation Council (DKTE IIC) has been honoured with 4 Star rating for its remarkable achievement towards building the culture of Innovation and Entrepreneurship in the Institute. Prof. Anil D. Sahasrabudhe, Chairman of AICTE and Prof. Rajneesh Jain, Secretary of UGC announced this annual performance result. Our institute has received this status, looking at annual performance of the institute towards Entrepreneurship, Innovation, Startup & Incubation ecosystem generation for students.
About Institution's Innovation Council (IIC)
Ministry of Education's Innovation Cell (MIC) launched the Institution's Innovation Council (IIC) program in collaboration with AICTE to systematically foster the culture of Innovation and start-up ecosystem in higher education institutions. The primary goal of this council is to inspire, encourage and nurture the young students for different activities involved in pre-incubation, incubation and making successful startups.
Institution's Innovation Council (IIC) @ DKTE
Our college have established Institution's Innovation Council (IIC) for promoting different activities related to the innovation, IPR, startup and entrepreneurships. Faculties and students are the members of IIC. The IIC cell conducts quarterly meetings in every quarter to plan the quarterly activities and review quarterly conducted activities. Due to these activities, students get chance to participate in various innovation related initiatives and competition organized by MHRD. Students actively interacts with renowned businessman and academicians. They get opportunities to nurture their ideas. DKTE's IIC helps students to experiment latest technologies to get some prototype for building their confidence. Overall students get extremely healthy environment right from ideation to startups.
Major Focus Area
To create a vibrant local innovation ecosystem.

Start-up/ entrepreneurship supporting Mechanism in HEIs.

Prepare institute for Atal Ranking of Institutions on Innovation Achievements Framework (ARIIA).

Establish Function Ecosystem for Scouting Ideas and Pre-incubation of Ideas.

Develop better Cognitive Ability amongst Technology Students.
Functions
To conduct various innovation and entrepreneurship-related activities prescribed by Central MIC in time bound fashion.

Identify and reward innovations and share success stories.

Organize periodic workshops/ seminars/ interactions with entrepreneurs, investors, professionals and create a mentor pool for student innovators.

Network with peers and national entrepreneurship development organizations.

Organize Hackathons, idea competition, mini-challenges etc. with the involvement of industries.
Activities
Following activities conducted in year 2020-21 under IIC cell of the institute.
| | | | |
| --- | --- | --- | --- |
| Sr.No. | Activity | Category | Date |
| 01 | Internal Smart India hackathon | Innovation | 25/01/2020 |
| 02 | MHRD and AICTE funded Impact Lecture Series on IPR | IPR | 01/07/2020 |
| 03 | MHRD and AICTE funded Impact Lecture Series on Startup | Startup | 04/07/2020 |
| 04 | How to commercialize faculty/ student projects into commercially viable start-ups/ products at the campus | Startup | 19/10/2020 |
| 05 | Identifying commercial viability and business potential for any start-up Idea | Startup | 20/10/2020 |
| 06 | Start-up and Entrepreneurship | Entrepreneurship | 21/10/2020 |
| 07 | Patent Filing: Mechanism and Methodology | IPR | 22/10/2020 |
| 08 | Journey Towards Innovation | Innovation | 23/10/2020 |
| 09 | Entrepreneurship Development | Entrepreneurship | 24/10/2020 |
| 10 | Institute Level Innovative Idea and Proof of Concept Contest | Innovation | 05/12/2020 |
| 11 | Interaction with successful Alumni Entrepreneurs | Entrepreneurship | 27/12/2021 |
| 12 | Seminar on Entrepreneurships Innovation and startup | Innovation, Startup and Entrepreneurship | 08/02/2021 |
| 13 | Seminar on overview on Intellectual Property and Patenting System in India | IPR | 11/02/2021 |
| 14 | Seminar on overview on Idea, opportunities and Business Plan | Entrepreneurship | 12/02/2021 |
Committee
Sr. No.
Experts
Designation
No.
Name

01

Faculty Representation

President

HOD & Dean (Project & Consultanc)

01

Prof.(Dr.) D.V. Kodavade

Convener

Associate Professor

01

Prof. (Dr.) S.B. Vanbatte

Innovation Activity Co-ordinator

Associate Professor

01

Prof. T. I. Bagban

Satrt-Up Activity Co-ordinator

Associate Professor

01

Prof.(Dr.) Manjunath.Burji

Internship Coordinator

Assistant Professor




Training Placement Officer




Training Placement Officer

03

Prof. P.M. Gavali




Prof. P.S. Joshi




Prof. S. B. Akiwate

IPR Activity Coordinator

HOD and Dean (Q & A)

01

Prof. (Dr.) V. R. Naik

Social Media Coordinator

Assistant Professor

01

Prof. Y. M. Kamble

Members

Assistant Professor




Assistant Professor




Assistant Professor




Assistant Professor




Assistant Professor




Assistant Professor




Assistant Professor

07

Prof. V. P. Gaikwad




Prof. S. D. Gokhale




Prof. (Dr.) M.Y. Gaikwad




Prof.(Dr.) S. K. Shirgave




Prof. M.S. Kulkarni




Prof. S.R. Prasad




Prof. K.S. Kadam

02

Expert Representation

IP Experts/Patent Experts

Special Invitee

01

Mr. Sagar B. Pol

Startup/Alumini entrepreneur

Member

01

Mr. Milind Sutar

Experts from near by Industry / Industry association /Ecosystem Enablers

Industry Experts

02

Mr. Jaykumar Parikh




Mr. Nilesh Takale

FI/ Bank/Investor/ Angel/Investor/VC

Member

01

Mr. Ravi Gupta




Union Bank Of India Ichalkaranji

03

Student Representation

Innovation Coordinator

Member

01

Miss Utkarsh Kavathekar

Startup Coordinator

Member

01

Mr. Digvijay Ajarekar

Internship Coordinator

Member

01

Mr. Abhishek Pandharpatte

IPR Coordinator

Member

01

Miss Sweta Kamble

Social Media Coordinator

Member

01

Mr. Gunjan Rajgure

General Members

Member

04

Miss. Shabana Nivade




Mr. PrathemeshDavande




Miss Sandhya Patole




Mr. Guruputra Teli
Action Plan
2. Timeline
Contact
Prof. (Dr.) P. V. Kadole




Director,




DKTE Society's Textile and Engineering Institute,




Ichalkaranji, Maharashtra, India

Prof. (Dr.) D. V. Kodavade




President,




Institution's Innovation Council,




DKTE Society's Textile and Engineering Insittute,




Ichalkaranji, Maharashtra, India