The Autonomy at DKTE offers the latest curriculum designed and endorsed at all times by the Industry. This gives the students a leading edge into niche learning areas and methods to practically demonstrate their skills..
The curriculum highlights are:
Dynamic curricula structure Based on global and local needs
A proper credit distribution of theory and practical knowledge ,soft skill, behavior and attitude related courses
Professional elective stream for Domain expertise
Internship to understand Industry required hands on experience to pursue project work.
Mini projects to develop a problem-solving approach.
Inclusion of MOOCs to develop self learning attitude
Advanced technology and Innovations are included considering rapid changes in Technology
Honors and Minor Degree Schemes (with additional credits) introduced for aspiring Learners. Which include advanced and industry demanding technology such as Data Science, IoT ,Electrical vehicles to name a few
Students continuously benefit from the rich industry institute partnership :
Students are motivated for sponsored projects at industries and converting the ideas into patents
Expert sessions from Industry create awareness of recent technology
Industrial visit to introduce the culture of Industy.
DKTE provides students an opportunity for Internship at national and international level to build their practical skills.
DKTE students would have completed at least one Internship for minimum 8 weeks duration and would have at least 2 certifications in latest Industry trends. This makes them conversant with the corporate philosophy and expectations.
We value our recruiter's time, energy and faith in engagement with DKTE. Salient benefits to the recruiters associated with a hire from DKTE are mentioned:
Our students are humble, committed and have a lot of respect towards the offer made to them.
Rigorous effort of training and placement department which put the Students to do hardwork realize that they need to earn the placement and they would not just get it!
Our students are sincere and quick learners which makes stamping their faith, belief and appreciation for quality and their productivity on job.
Technical and soft skill training program is designed for preparing students for placement activity. The process is represented in the following chart:-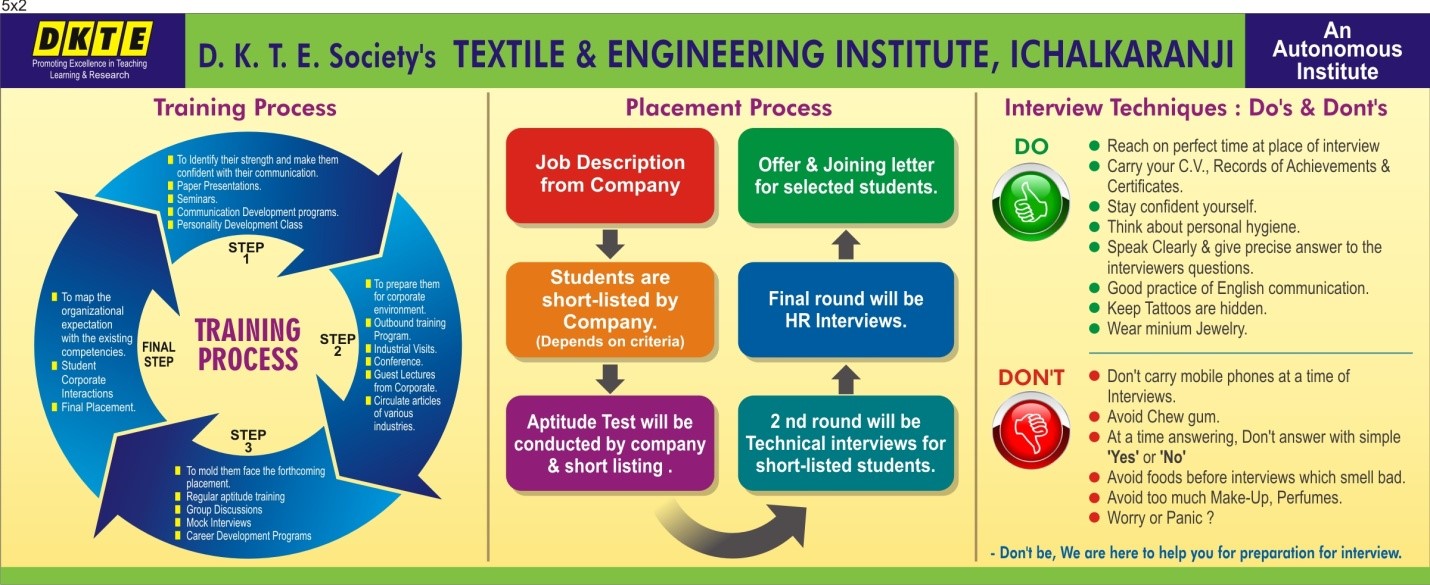 All recruiters are proud and happy to have hired from DKTE and our Alumni is doing us proud each day with their achievements and accomplishments!